2023 Wedding Trends
The new year is synonymous with resolutions and goals, and in our industry, we add "wedding trends" to that list as well.
Wedding trends have morphed over the years – from the introduction of the white bridal dress that Queen Victoria of England wore in 1840 to miniskirts, bouffant hair styles and shift dresses in the 1960's, and even the minimalistic air of the 90's.
Wedding dresses are not the only thing that changes as time passes.  Here are seven trendss to be on the lookout for in 2023.
THROW BACK TO THE 80's
Wedding trends in the 1980's are coming back, but with a little twist.  In the 80's it was common to see wedding gowns with long sleeves and equipped with shoulder pads.  Fast forward to 2023 and you'll see sleeves, but they are of the more delicate form-fitted variety.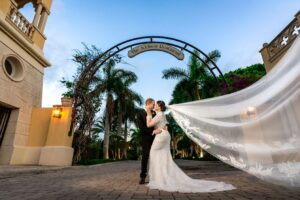 Photo: Munoz Photography
Baby's Breath appeared back on the scene in late 2022 and will continue to be a mainstay.  Back in the day, it was a filler but now it steals the show as an integral part of ceremony arches and reception centerpieces.
PEARLS
The pearls trend emerged in 2022 and is still here in full bloom.  You will find them not only on wedding gowns, but as cake decoration, sprinkled on accessories and shoes, as well as veils and even incorporated into the bride's makeup and nails!
BOWS
Whether it is a large statement bow or multiple delicate bows, you are sure to see bows pop up in the 2023 weddings.  People are incorporating creative versions of bows to:
Table décor (think chair linens)
Bows accenting hanging seating charts
Tying silverware together as a part of the place setting
Large, printed sashes on dresses or tied to bouquets
SUSTAINABLE PRACTICES
There are SO many sustainable wedding trends in place and dozens more popping up.  One of the most popular trends is the paperless wedding invitation, or at least using recycled paper.
By using a local or in-season flower for your bouquets and centerpieces, you are helping to reduce your carbon footprint.
Décor such as used crates, bottles, old books, and vinyl records are great ways to add charm to your wedding while saving the planet!
COLORFUL DETAILS
Muted color-themed weddings are in no way extinct, but it is more common these days to see a pop of color alongside the white wedding.
Five trending colors palettes include:
Bright pinks (the Barbiecore trend)
Earthy neutrals such as browns and tans
Dense color palettes focusing on black
Green from neon to forest
Color families instead of just one distinct color theme (i.e., beachy color palette of cream, ocean blue, white)
WEDDING PARTY ATTIRE
A lot has changed when it comes to wedding party attire.  Back in the day, the bridesmaids would all wear the same exact dress.  Over the past few years, we've seen a major shift.  Yes, there are bridal parties that are outfitted in the same everything – dress cut, color, etc.
Photo: Poirier Wedding Photography
Now, we've seen a few different choices:
Same dress style , different colors
Same color, different
All dresses in the same color but different shades (i.e. dark purple, lilac, lighter purple)
Groomsmaids in suits with tie being in the accent color
WEDDING DRESS RENTALS
Remember when you dreamed of your wedding day, swirling around in your wedding gown?  Reality hits when you go to the bridal shop and look at the price tag.  The wedding dress itself can be one of the biggest expenses when it comes to the big day.
There are quite a few more trends on the horizon for this year, so stay tuned for updates!  What trends are your favorite, and which past trends would you like to see come back?