The Addison's Notable Newlyweds: A Family Tradition
We have the pleasure of meeting so many special couples while planning one of the most important and memorable days of their lives.  Our new series "Notable Newlyweds" allows us to share their stories and experiences with you!
What better way to roll out our new interview series than with a family of three brides – Grace (Mom an uber-talented event planner here) and her two daughters, Alexandra and Sarah – each getting married here at the Addison in Boca Raton!  Alex and Ben started the trend back on June 14, 2019.  Grace tied the knot with Ross on December 26, 2020, while Sarah and Alex said their "I Do's" June 11, 2021.
So how big should a team be? Practice shows that teams can be no more than 6-8 people. The team should creating effective teams be as cross-functional as possible and be in the same room. It is important that team members have a common goal, and everyone has an understanding of how to achieve it. The advantages of such a team are internal proactive communication, knowledge exchange, focus on team results, etc. Teams of this size are capable of maximum efficiency.
It was interesting to see how each of the ladies answered the interview questions.  Check out their responses below!
ADDISON: How did you and your husband meet?
ALEXANDRA: We met at Boca Community Church. We were on the worship team together. I sang; he played drums.
GRACE: We met at a home church fellowship group.  We would see each other every Friday for about two years and the group of us would have dinner together and fellowship.
SARAH: We met on Bumble and connected over both working in wine.
ADDISON: What was your first date?
ALEXANDRA: Our very first date was sitting at the beach together on a cloudy cold day watching the waves and getting to know one another more deeply.
GRACE: He asked me to be his date to celebrate a mutual friend's birthday.  A group of us went by limo to celebrate at a wine bar for wine and food in Fort Lauderdale
SARAH: We went to a local brewery and taco truck. We go back every year on January 12, the day of our first date.
ADDISON: When did you know it was love?
ALEXANDRA: They say, "you know when you know." And that goes for both of us. I have always said it was like a bucket of joy was poured over me when we first met and he will say that it was my smile that convinced him I was the one.
GRACE: Very early in the dating process and I knew that it was not just casual dining.
SARAH: When we took our first trip to Minnesota together.
ADDISON: How did he propose?
ALEXANDRA: I am obsessed with the Cheesecake Factory so he took me there for dinner and than said "let's go to the beach." When we got there, paper lanterns decorated the walkway to the pavilion and there were bistro lights, two champagne glasses and a sign that said "I have found the one whom my soul loves." Our family was hiding and greeted us after and there was a photographer there. It was an amazing night to remember.
GRACE: He got down on his knee in front of the Christmas tree in my house.
SARAH: In Minnesota, walking on the frozen lake behind his parents house. Our family watched from the balcony.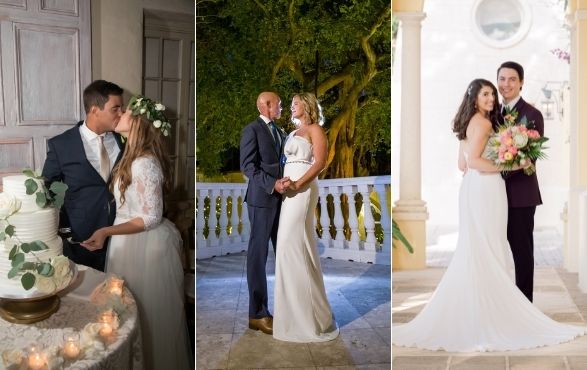 ADDISON: Why did you choose the Addison?
ALEXANDRA: My mother worked there so it made the most sense.
GRACE: I work at the Addison and it is the best, most beautiful place to get married.
SARAH: I (Sarah) had worked in the South Florida wedding industry before moving to California. There is no venue more professional and organized than The Addison. Everything is impressive from the food to the service. I also love the Addison's rich history and wanted to share that with my guests.
ADDISON: What was the theme for your wedding?
ALEXANDRA: Very organic with mostly green and white as the main colors. Lots of lighting and had the most gorgeous display of floral design above the dance floor. Very romantic.
GRACE: Christmas – it was the day after that we got married and such a festive time.
SARAH: South Florida Tropical! We included lots of pineapples and vibrant colors. Over half of our guests had never been to Florida so we wanted to embrace the culture. We included key lime pie, empanadas, and a cigar roller.
ADDISON: Would you have done anything differently?
ALEXANDRA: I would have had more bridesmaids. I didn't want drama so I kept mine to four but looking back I would have had more girlfriends with me just to make it more fun and lively.
GRACE: I would have gotten a videographer, especially for the ceremony.
SARAH: No, we are really happy with our whole planning experience.
ADDISON: What advice would you give soon-to-be brides and grooms?
ALEXANDRA: Weddings are fun and gorgeous but sometimes it's best to think of it as a gift to your guests rather than a gift to yourself. If you think of it as having to be perfect and pleasing yourself then you're going to be disappointed. If you think of it as a day to bring joy to your guests to share in the moment of your special day, then your perspective is taken off the obsession of self on the day of the wedding. Choose the things that matter to you most and then everything else is a pointless battle.
GRACE: Great vendors are key to making your day smooth, so choose preferred vendors.
SARAH: Stay calm and enjoy the process! The wedding day goes by so fast. Embrace the planning.
Stay tuned to more interviews with our Addison brides and grooms!