The Addison's Notable Newlyweds: Lindsay and Mike
We have the pleasure of meeting so many special couples while planning one of the most important and memorable days of their lives.  Our new series "Notable Newlyweds" allows us to share their stories and experiences with you!
Our third couple, Lindsay and Mike got married at the Addison on March 26, 2021.
So how big should a team be? Practice shows that teams can be no more than 6-8 people. The team should creating effective teams be as cross-functional as possible and be in the same room. It is important that team members have a common goal, and everyone has an understanding of how to achieve it. The advantages of such a team are internal proactive communication, knowledge exchange, focus on team results, etc. Teams of this size are capable of maximum efficiency.
Lindsay and Mike are such an awesome, loving couple – we can't wait for you to hear all about them below!
ADDISON: How did you and your husband meet?
LINDSAY: Mike and I met while out in downtown West Palm Beach through some mutual friends.
ADDISON: What was your first date?
LINDSAY: Our first date was at Salt 7 in Delray Beach. We both love sushi and at the time it was the newest sushi restaurant in the area. We had an amazing dinner and basically closed the place down talking all night.
ADDISON: When did you know it was love?
LINDSAY: It may be cliché but the saying "love at first sight" applied to us. We had an immediate spark and chemistry when we first met and fell for each other very quickly. We have so much in common we also formed an amazing friendship at the same time.
ADDISON: How did he propose?
LINDSAY: Mike proposed to me at the Bethesda By the Sea in Palm Beach. He knew how much I loved the church and the grounds. He surprised me by taking me to the garden area to "kill time before meeting up with some friends for brunch" and proposed! I was totally surprised and not expecting it at all. Following the proposal, he planned a special family brunch with all of our family and close friends there. It was such an incredible and special day that we will remember forever.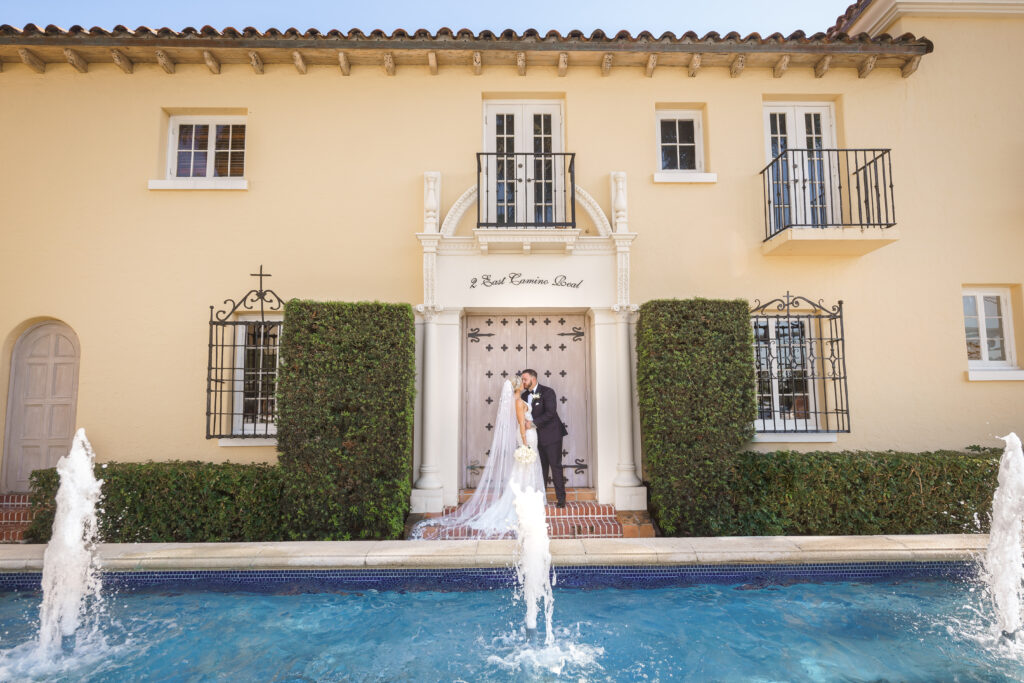 ADDISON: Why did you choose the Addison?
LINDSAY: We considered many options when planning our wedding, including elopement! However, after touring The Addison we were hooked. We loved the scenery and the fact that all of our family and friends would get to be there to share our special day with us.
ADDISON: What was the theme of your wedding?
LINDSAY: We didn't necessarily have a "theme" we knew we wanted it to be modern/classic. We chose classic tuxedos for the groom and groomsmen, and beautiful icy blue gowns for the bridesmaids. Each look had a touch of elegance and class however, we added the modern fit and touch to keep the looks current and stylish. We love the timeless look and were so happy and thankful for our amazing vendors who tied the entire look together.
ADDISON: Would you have done anything differently?
LINDSAY: If I could have done one thing differently it would have been COVID! Unfortunately, we had no control over it but we made the absolute best of everything and we are happy we decided not to wait to have our wedding.
ADDISON: What advice would you give soon-to-be brides and grooms?
LINDSAY: Be present and in the moment on your special day! It may be hectic and you may feel like there is a million things to do before you walk down the aisle but take a step back and take it all in! This was the best piece of advice I received for our day and I am so happy I listened. At one point Mike and I even took a second to ourselves and walked out into the courtyard to see the twinkling lights during our reception. It was so nice to have a second to soak it all in together, it is a memory we will never forget and cherish forever.
Check out our other Notable Newlyweds – Dani and Zach!