The Addison of Boca Raton Receives Prestigious Five Star Diamond Award for Sixth Year in a Row
Local private event venue and caterer is recognized nationally for excellence in catering and hospitality service
The American Academy of Hospitality Sciences (AAHS) awarded the Addison of Boca Raton its coveted Five Star Diamond Award, recognizing the venue for its achievement and quality in the hospitality and luxury service industry. This is the sixth consecutive year the Addison has received this rare distinction.
AAHS is renowned worldwide for awarding excellence in the global travel and luxury services sector. Each year the academy bestows its coveted awards on five and six-star quality hotels, spas, golf courses, restaurants and chefs. This award is a prestigious emblem of achievement, recognizing true quality in the hospitality and luxury service industries worldwide. Evaluations are based on exceptional service, superb facilities, ambiance, attitude, gastronomy, cleanliness and above all, hospitality.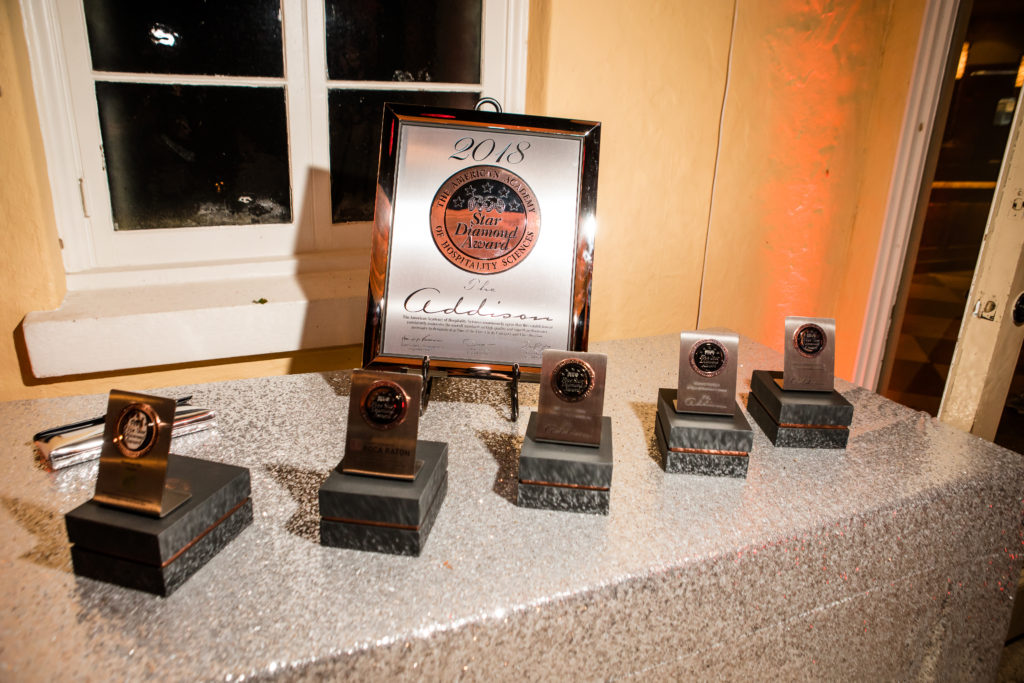 "I am proud of our entire team," said Vice President of the Addison Zoe Lanham, on accepting the award. "The Addison takes great pride in providing best-in-class events and catering, and it is an absolute honor for our team to be recognized for their hard work and accomplishments."
The award was presented at an exclusive gala at the Addison on the evening of Wednesday, March 21. The event showcased a six-course dinner prepared by Executive Chef Patrick Duffy, wine and cocktail pairing sponsored by Southern Glazer's Wine & Spirits, extravagant décor by Daniel Events, and live entertainment by Celebrity Entertainment. It was attended by many prominent community figures, including Mayor Susan Haynie and the Boca Raton council members, Mary Csar of the Boca Raton Historical Society, and several board members from the Junior League of Boca Raton.

Also recognized by AAHS at the dinner were President of Daniel Events Benny Ofer, for his charitable good works, partnership, and excellence in event décor, and non-profit organization The Junior League of Boca Raton, for their commitment to the community and excellence in leadership.
"The Junior Leaguer of Boca Raton is honored to receive this award. Since 1971, we have been committed to develop exceptionally qualified female civic leaders who can identify a community's most urgent and pressing needs and address them with meaningful and relevant programs and initiatives that not only improve lives, but change the way people think," said President of the Junior League of Boca Raton Renata Sans De Negri. "We're so appreciative of the Addison's support!"