The Addison's Notable Newlyweds: Kate and Alberto
We have the pleasure of meeting so many special couples while planning one of the most important and memorable days of their lives.  Our new series "Notable Newlyweds" allows us to share their stories and experiences with you!
Our next couple, Kate and Alberto got married at the Addison on January 22, 2022.
So how big should a team be? Practice shows that teams can be no more than 6-8 people. The team should creating effective teams be as cross-functional as possible and be in the same room. It is important that team members have a common goal, and everyone has an understanding of how to achieve it. The advantages of such a team are internal proactive communication, knowledge exchange, focus on team results, etc. Teams of this size are capable of maximum efficiency.
Kate and Alberto are such an awesome, loving couple – we can't wait for you to hear all about them below!
ADDISON: How did you and your husband meet?
KATE: We met in 2014 at a UFC gym in lower Manhattan when we noticed each other during a boxing class and started talking at the drinking fountain.
ADDISON: What was your first date?
KATE: Classic dinner (burgers at Shake Shack!) & a movie, we walked home from the movie theater and kissed on the busy NYC street.
ADDISON: When did you know it was love?
KATE: When I got really sick with a bad cold, Alberto brought me soup and Gatorade and took care of me, showing he really cared and didn't mind seeing me so sick!!
ADDISON: How did he propose?
KATE: During a night walk on the beach in Cozumel Mexico, with our favorite ice creams in hand (definitely melted at that point!) Very private moment and so memorable and sweet.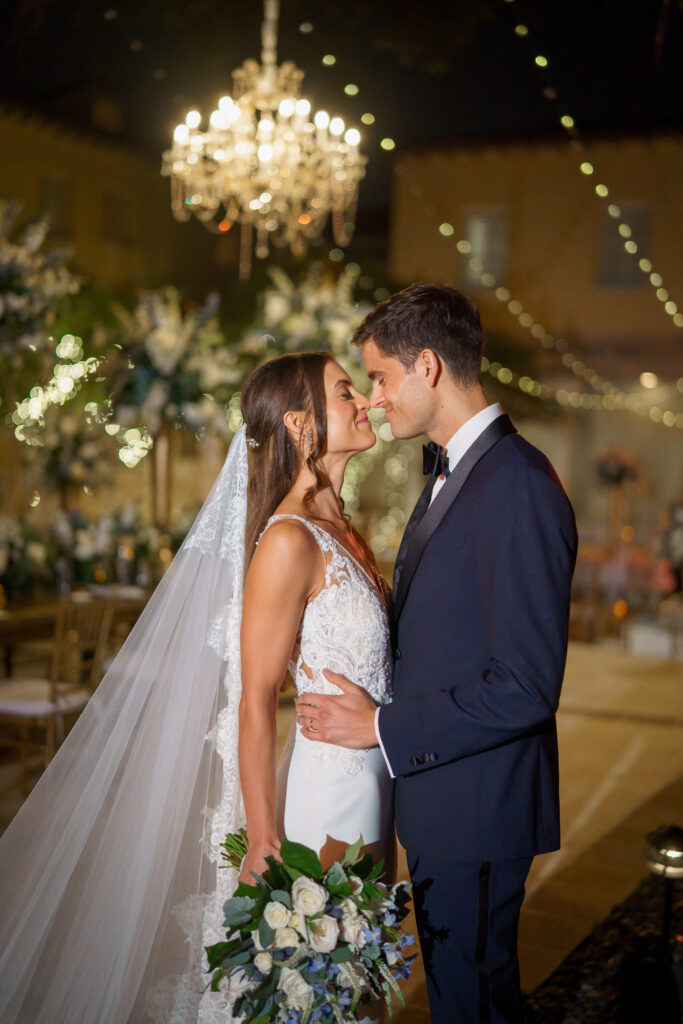 ADDISON: Why did you choose the Addison?
KATE: We choose the Addison because of the beauty of the banyan trees and even more so for the unparalleled service and experience that we read about and came to expect. Our guests said it was the best wedding they had ever been to because it was stunning but also so efficiently ran, the food was perfection (the seabass!!) and no detail was overlooked.
ADDISON: What was the theme of your wedding?
KATE: French garden blue, with hints of gold and warm lighting.
ADDISON: Would you have done anything differently?
KATE: Honestly, no. I loved every minute of our wedding and it all worked out. Actually, to that end, I wish I stressed LESS beforehand and enjoyed the process, and trusted that it would all be okay 🙂
ADDISON: What advice would you give soon-to-be brides and grooms?
KATE: Stress less!! Also tackle some tasks as early as possible, like seating arrangements, so you're not scrambling at the end. Enjoy the anticipation because the day goes by so fast. I also recommend journaling your memories after the day, because you want to remember how you felt, and what people said to you and be able to go back and read these details years in the future.
Check out our other Notable Newlyweds – Dani and Zach!